JAMAICA | The History and Evolution of modern Jamaican Music (Part 1)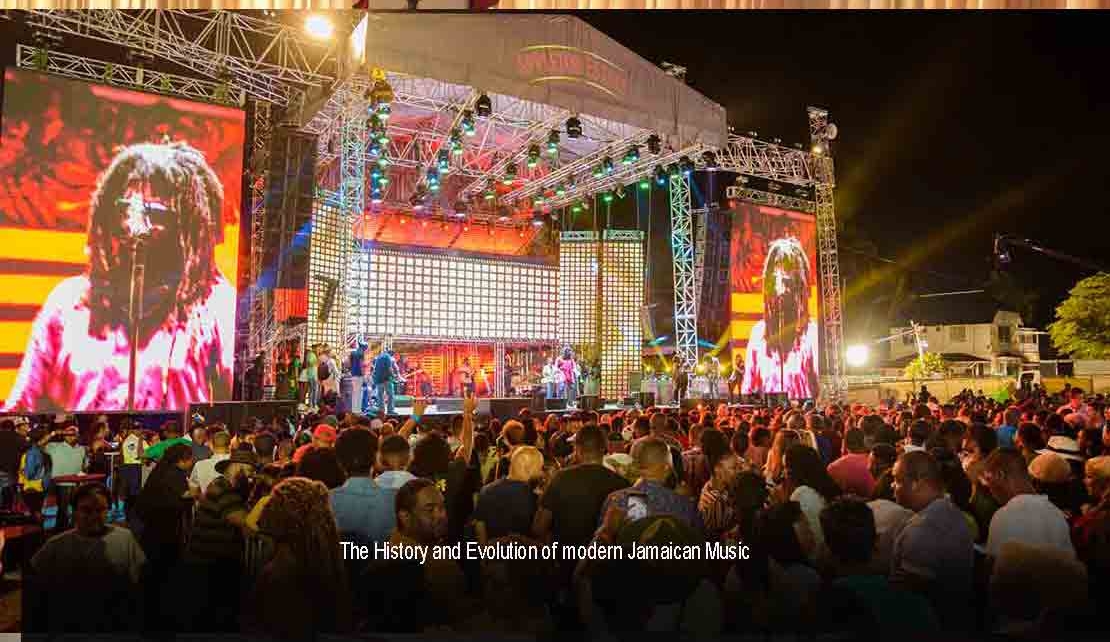 Many pundits trace the genesis of Modern Jamaican music to the late 1950s when Theophilous Beckford voiced the single "Easy Snappin" for the fledgling mogul, Clement Dodd, who would become one of the most legendary producers in the history of Jamaican popular music.
Musicologist, clyde McKenzieThe song which some describe as an exemplar of the Boogie - a kinetic form of Black American music - would herald the birth of the Jamaican genre we have come to know as Ska. Among the exponents of Ska were Bob Marley, Jimmy Cliff and Toots and the Maytals, all of whom would secure Grammy Awards of one kind or another for their international musical accomplishments.
Cliff and Marley would also be inducted into the Rock and Roll Hall of Fame. Bob Dylan described Cliff's "Vietnam "- which has strains of Ska within its structure as -" the greatest protest song I ever heard." Most people across the planet are familiar with the legend of Bob Marley and his impact on revolutionary movements across the world - from East Timor to Occupy Wall Street - yet other acts such as Peter Tosh, Bunny Wailer, the Skatalites and Lee" Scratch" Perry, hold iconic status in the pantheon of international popular music.
Numerous are the Jamaican artistes who have managed to secure places on international charts including the much vaunted Billboard in the USA and the prestigious "Top of the Pops" in Britain.
Clement Dodd, one of the most legendary producers in the history of Jamaican popular musicJamaican artistes such as Shaggy and Sean Paul have sold multiple millions of recorded products and are readily recognizable as major players in mainstream music markets. Beenie Man, Damian Marley, Vybz Kartel, Lady Saw, Bounti Killa, Gyptian, Mr. Vegas, Elephant Man and Mavado are among the many current Jamaican acts who have distinguished themselves internationally, winning Grammys, MOBOs and other major awards.
Artistes such as Milly Small, Ken Boothe. Bob Andy, Marcia Griffiths and Desmond Dekker, all scored major international hits within a few years of each other on coming after Jamaica secured independence from Great Britain in 1962. Most of the early Jamaican international hits were covers of tunes originally done by British or American acts.
My Boy Lollipop (Milly Small) was originally performed by Barbie Gaye; Everything I Own (Ken Boothe) was first done by Bread;Young Gifted and Black (Marcia Griffiths and Bob Andy) was initially recorded by Nina Simone. Desmond Dekker's "Israelite" and "007 "are exceptions among this group of early international hits by Jamaicans, in that they were written by the artiste who was the original performer. What is even more surprising for the Dekker hits was their managing to climb both the "Top of the Pops" and Billboard charts although they were largely delivered in the Jamaican vernacular.
The Skatalites, arguably the leading exponents of the SkaIt should also be noted that some of the early hits from the Skatalites, arguably the leading exponents of Ska, were really Jamaicanised versions of movie themes such as "Exodus," "Bonanza," "Guns of Navarone," and "Ball of Fire." In fact through the years the various Jamaican music forms - from Ska to Dancehall - have borrowed heavily from foreign originated genres such as Rhythm and Blues and Country.
Bob Marley's much celebrated "One Love," draws some of its musical inspiration from Curtis Mayfield's" People Get Ready," a rhythm and blues track. Such Jamaican classics as Alton Ellis' " Willow Tree", Ken Boothe's 'Puppet on a String' and Dennis Brown's "The Wichita Lineman," are all covers of popular American tunes.
This however, has not been a one way process. Foreign artistes have enjoyed great international success recording songs written by Jamaicans. Blonde scored a Billboard number one with the "Tide is High" written by John Holt of the Paragons. Eric Clapton scored another Billboard number one with "I Shot The Sheriff" written by Bob Marley and there are numerous other examples of such successful collaborations. Incidentally Marley did not take any of the songs that he wrote and performed himself to number one on the Billboard charts during his lifetime.
James Chambers also called Jimmy Cliff from Somerton in St. JamesWhat is clear is that Jamaican and American music forms have benefitted from a process of cross fertilization. The most dominant American music form, Hip Hop, has strong Jamaican roots.The man credited with creating Hip Hop, Clive Campbell, is a Jamaican who went to the South Bronx to live with his family. He introduced his native style of talking between music breaks or instrumental passages in a recording (deejaying or toasting) at the various dances he hosted to make money in the Bronx. Eventually, he had to use an American accent in his toasting, so that he could be understood by his audience.This signaled the birth of Hip Hop in the 1970s.
International appeal
Many have sought to interrogate the unequivocal international appeal of Jamaican music and have cited a number of factors which might have contributed to this phenomenon. It should be pointed out that the strong presence of the Jamaican diaspora in a number of the major music markets of the world has been a significant factor in the international popularization of the musical output of this relatively small Caribbean island.
These groups of Jamaicans abroad have served as vectors for the diffusion of the cultural influences from their native land in their adopted countries. Some also argue that the counter-cultural foundations of Jamaican music, particularly of Reggae, broadened its appeal beyond the diasporic constituencies.
Noted Jamaican impresario Junior Lincoln who lived for many years in Britain has often reminded his audiences that Jamaicans abroad viewed the music from their native land as an important link with their homeland. Ironically he notes that white racist rebels such as the Skinheads, were also instrumental in popularizing Jamaican music in Britain particularly the Ska.
Bob Marley's much celebrated "One Love," draws some of its musical inspiration from Curtis Mayfield's" People Get Ready," a rhythm and blues trackThe music of Marley not only featured in the dismantling of the heinous structures of apartheid in Southern Africa but also served as a source of inspiration in the destruction of The Berlin Wall. Yet Dancehall, an offshoot of Reggae, has been experiencing resistance in international quarters because it is seen by some in North America and Europe to be promoting anti gay and other sentiments deemed reactionary.
At the dawn of the the twenty first century, many Dancehall acts had their shows cancelled in Europe and North America, due to protests from gay rights activists. What seemed ironic to some who have followed Jamaican culture, is that the protesters (progressives and liberals) were among those who had been solid supporters of our music. Dancehall, because of its perceived antigay stance, was now seen as backward.
This development took a heavy financial toll on many Jamaican artistes. Many leading acts such as Beenie Man, Buju Banton, Bounti Killa, Capleton and Sizzla were denied airplay in some countries, barred from many venues in others and canceled from a number of high profile media appearances in Canada, the United States and Europe.
The Sound System and the studios
Studio one Recording StudioThe sound system, a distinctly Jamaican solution for the need to satisfy the amplified sonic requirements within a specific venue, served as a critical source of dissemination for indigenous recordings.
The sound system would largely replace live bands in both the urban and rural areas as sources of musical entertainment . Having sound systems playing recorded music instead of live bands performing at dances not only provided promoters with a more cost effective approach to staging events but also gave patrons a wider range of entertainment offerings.
The process of playing recorded music in the dance halls helped to popularize the nascent Jamaican music forms and fledgling artistes in the absence of fulsome support from the media. It should be noted that the two leading pioneers in the production of modern Jamaican music, Arthur "Duke" Reid, and the above mentioned Clement "Sir Coxsone" Dodd were sound system operators prior to their becoming owners of studios.
Arthur Duke Reid, the Trojan, the great rival to Coxone DoddReid operated theTrojan, while Dodd was responsible for the DownBeat sound system. Both men would hire their systems and services to promoters who would charge at the gate and sell food and liquor to cover costs.The sound systems differentiated their product offering by sourcing music from abroad, which they hoped their rivals did not have in their repertoire.
Soon it became increasingly difficult to acquire these exclusive songs which mostly originated in the United States, as the dominant American music forms were becoming out of step with the Jamaican pulse. This deficiency gave rise to the need for the sound system operators to create their own songs which would distinguish them from their rivals hence the establishment of their own studios.
Dodd created the legendary Studio One, while Reid established the Treasure Isle label.This development would soon herald the introduction of modern Jamaican music which would change the face of popular culture worldwide.The bulk of early modern Jamaican music was produced by either one of these two labels.
Dodd and Reid operated a vertically integrated production model controlling most, if not all stages of the value chain including recording, pressing, promotion and distribution. They often controlled the publishing of the songwriters who worked with their label.
Soon a number of other studios would flourish, often with former apprentices of Dodd and Reid at the helm. Personalities such as King Jammys, Prince Buster and Lee Scratch Perry, are among the many proteges of Dodd and Reid who would go on to start their own studios.
The introduction of multi tracking, a technology developed by noted American inventor and musician Les Paul, facilitated the production of greater volumes of Jamaican music.
Before multi-tracking, all recordings had to be done in real time. This meant that the instruments, the background and lead vocals and any other feature of the song all had to be done simultaneously. With the advent of multi- tracking, the different instruments and voices could be put on tape at separate times.This would have an enormous impact on how music was produced.
The legendary Tom the Great Sebastian, Tom Wong, the man credited with the creation of the sound system. The multitracking also gave rise to the recording of toasters who were fixtures on the sound systems, serving to introduce the records (selections) in the dance - often with banter and gibberish -hence their designation as selectors.
These selectors would also make stylized announcements about where the sound system would next be playing and other related information. Among the more legendary selectors was Count Machuki who started his career with the man credited with the creation of the sound system,Tom Wong, also known as 'Tom The Great Sebastian'.
However it was U Roy who distinguished himself as the first deejay (selector) to become a recording artist in Jamaica. His "Wear you to the Ball" which was stitched into the instrumental breaks on the single of the same name from John Holt and the Paragons, would constitute the first genuine deejay recording.
The capacity to strip recordings into their component parts allowed for the bass tracks to be used in multiple recordings giving rise to the "rhythm driven" phenomenon also called "versioning". This development later facilitated the growth of Dancehall.
This mode of production enabled by multi tracking increased economic efficiencies as one set of musicians in one recording could provide the musical basis for many songs. This also led to the privileging of the engineer/ producer.
Prior to the advent of multi tracking the leaders of recording sessions were musicians/arrangers. Great instrumentalists such as keyboardist Jackie Mittoo of Studio One and bassist Jackie Jackson of Treasure Isle, as well as the legendary guitarist Ernie Ranglin who worked for all the major studios, led the recording sessions on behalf of their bosses, Dodd and Reid, who were not really musicians.
Lee Scratch Perry and a host of other technical wizards moved to the fore in terms of music production.In this new paradigm engineers such as King Tubby, King Jammy, Lee Scratch Perry and a host of other technical wizards moved to the fore in terms of music production. Most of these men would eventually own their studios. Scratch and Tubbys through acoustical experiments, enabled by multi tracking technology, were able to examine the contours of sonic possibilities manipulating such features as reverb and echo to spawn the genre the world has come to know as Dub.
1985 would signal another dramatic shift in the modes of music production in Jamaica. It was the year of "Sleng Teng" which was the name of a track identified by an artiste Wayne Smith on a Casio keyboard player. The significance of this recording is that it brought Jamaican music production truly into the digital age. It has been described as the" first fully computerized" Jamaican song.
The loop used by Smith had actually been pre-programmed in the machine by the manufacturers. Smith found it and took it to King Jammy who had him put his vocals on it. The result was Sleng Teng which had by one account over three hundred and eighty versions (songs) recorded on the same rhythm.
What is most noteworthy about" Sleng Teng" and its versions is that they were produced without the intervention of live instrumentalists in the studio.
Producers like Steely and Clevie produced tracks for various artistes and labels.Further advances in digital technology would help to democratize the production process.The new technologies resulted in a reduction in the price of recording and editing equipment. Software such as the popular ProTools allowed creators of music to forgo some of the traditional requirements for recording such as reel to reel tape machines, patch bays and other such gadgets.
It also allowed the engineer to digitally alter the pitch and tempo of the vocal tracks.Vocalists no longer needed to be on key when they recorded as the producers could now make digital adjustments to ensure that they were.
Younger producers who would have been restrained by the costs of equipment and lack of performing talent were able to surmount these creative challenges with the emerging technologies.
The availability of affordable technology meant that many of the actors who would have confined themselves to the role of performer moved into the business of being producers. Progenies of a number of musicians and artistes are now involved in the family business either as performers or producers or both.
Bob Marley with his Tuff Gong studio would be one of the pioneers in this trend which would see others like Buju Banton, Mikey Bennett, Freddy McGregor, Tony Rebel, Beresford Hammond and Junior Reid, establishing studios and labels while having their children becoming involved in the business.
Tony who has been responsible for a number of international dancehall hits largely operated on the same principle. Tony has his own Klicious label.Most artistes now want the flexibility to be able to record with as many different producers as possible even when they have their own studios. They want to be on the "hottest juggling," a term referring to the latest instrumental available to vocalists to use as backing tracks. These "juggling" can have as many artistes as the producer deems desirable on the same basic rhythm track.They want to operate in an open system.
Beenie Man, although signed to a management contract with the famed Shocking Vibes outfit, which was a label and studio, recorded for anyone who presented him with the opportunity. The same applied to an artiste like Buju Banton who was signed to Penthouse.
Producers like Steely and Clevie produced tracks for various artistes and labels. The same could be said of Dave Kelly, arguably the most dominant producer in the history of Dancehall, who recorded almost every artiste of note on his hit rhythms.
Dave has his own Madhouse label and has not had many artistes signed to it. His brother Tony who has been responsible for a number of international dancehall hits largely operated on the same principle. Tony has his own Klicious label.
Ace producers like the Kellys were able to strike deals with the Jamaican owned American based VP Records and other distributors such as the British based Greensleeves and similar entities in North America, Europe, Japan, South Africa and South America.
Labels like VP would pay sizable advances ranging often between twenty thousand and fifty thousand US dollars for the right to distribute an album in a particular territory such as North America.
These albums would largely consist of many different vocal tracks on the same rhythm created by the producer.The reverse would also be true as artistes and their management were able to shop album deals with the works of multiple producers and get sizable advances from the likes of VP as well. These deals could be quite lucrative, as between Europe and North America, one could earn as much as one hundred thousand US dollars for an album.
Byron lee and the DragonairesProlific producers like the Kellys could turn out quite a few albums in one year. Top flight artistes like Beenie Man or Buju Banton could secure sizable advances for these independent one off album deals.
Artistes however were not able to deliver albums at the same rate as the producers. One producer could record a slew of artistes on the same rhythm in quick succession. However an artiste would perhaps need to have multiple sessions with different producers at various locations in order to create an album for himself.
What is more, when the artistes were signed to a major record label, they would often commission producers like the Kellys to contribute tracks for their albums. In such circumstances it is not unusual for the producer who would get fifty thousand dollars for an entire album from VP to get half of that amount for just one rhythm or song from Sony or EMI.
The Kelly brothers were regular contributors to international projects with major record labels featuring Sean Paul, Beenie Man and Shaggy to name but a few...It should be noted that the top flight producers would also be commissioned by top Hip Hop and R & B artistes for doing remixes as well as providing "beats" which are rhythm tracks.