How legalising cannabis has worked out for other countries
Written by The Independent

Published in

Health
Theresa May's government is being forced to grapple with the thorny issue of drug legalisation, amid two cases where children would have suffered if their families were unable to access supplies of medical marijuana.
The issue has prompted the health secretary, Jeremy Hunt to admit the government has not got the law right on cannabis.
The former leader of the Conservative Party, William Hague, has gone further, saying current British law is not only "inappropriate, ineffective and utterly out of date", but that the government should look to Canada, which is on the cusp of legalising the drug for recreational use in additional to medical use.
Labour has said they would make medical cannabis legal in Britain, and as the pressure mounts, there is now the prospect of a change in legislation for the first time since the drug was upgraded from a class C drug to class B by Gordon Brown's government in 2009.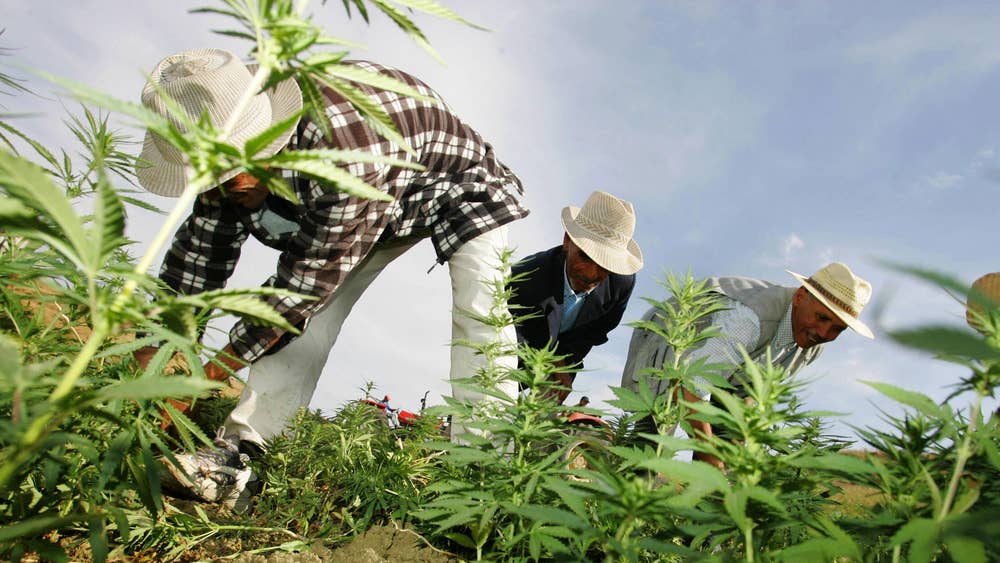 In the UK, Home Office guidance says: "It remains illegal for UK residents to possess cannabis in any form," which includes growing plants.
The penalty for dealing, producing and trafficking the drug can be up to 14 years in prison, as well as unlimited fines.
Despite the law, the drug's widespread use means several police forces have confirmed they are beginning to stop targeting low level offenders.
The only cannabis-based medicine licensed for prescription in the UK is Sativex, a mouth spray which is used to treat pain, bladder control problems and other symptoms of multiple sclerosis.
But is a more liberal legal position about to be ushered in?
On Tuesday, the home secretary, Sajid Javid, announced a review into the medical uses of cannabis.
We take a look at how have other countries dealt with the changing medical and social environment around the pros and cons of marijuana.
Uruguay
We begin with the tiny South American nation, as they became the first country in the modern era to legalise recreational use of cannabis in 2013.
The legislation came into being in an effort to combat drug-related organised crimes and health issues.
Legal marijuana is now carefully controlled by a small number of chemists who distribute an affordable high quality product which is said to provide an excellent high.
Sales of the drug remain frustrated by banks' fear of handling money from marijuana-related accounts, as the drug largely remains illegal across the globe.
Portugal
Portugal effectively decriminalised possession of any drug in 2001, even heroin and cocaine, so long as the amount does not exceed a ten-day personal supply.
Since then, drug issues in the country have been treated more as medical concerns than a criminal justice issue.
Since the law took effect, HIV infections have fallen dramatically and drug-related deaths have decreased to among the lowest in the EU.
Among Portuguese adults, there are three drug overdose deaths for every 1,000,000 citizens.
Comparable numbers in other countries range from 10.2 per million in the Netherlands to 44.6 per million in the UK, all the way up to 126.8 per million in Estonia. The EU average is 17.3 per million.
In addition, the country has among the world's lowest use of substances such as "synthetic" marijuana, "bath salts" and "spice".
Spain
Next door, Spain has also adopted a fairly liberal attitude to the personal consumption of marijuana.
It remains illegal to sell it for commercial purposes, but since the 1990s the drug has been decriminalised and it may be grown on private property for use in a private space.
Non-profit-making cannabis clubs are a popular means of growing and smoking cannabis in Spain.
In Catalonia, the regional government has launched a limited programme to allow prescriptions of Sativex to sufferers of multiple sclerosis and cancer.
Medical marijuana programmes do not exist elsewhere in the country.
Switzerland
Possession of personal supplies of cannabis was decriminalised to a flat fine of 100 Swiss francs in 2012, and following the rule change some regions began to permit the cultivation and use of cannabis.
However, the fine system has almost stopped, as last year the federal court ruled the law had been wrongly administered.
As a consequence, regional police departments have begun stopping prosecuting people for possession of small quantities of the drug.
USA
In 1969, the then-US president, Richard Nixon, formally announced a "war on drugs" designed to eradicate drugs and imprison offenders.
After almost 50 years and well over $1trn spent on anti-drug efforts, some US states have made efforts to relax cannabis laws.
Medical cannabis is now legal in some form in at least 29 states – with California leading the way in 1996.
Despite state rulings, federal crackdowns punctuated the Clinton, Bush and Obama administrations.
Since 2014, states which have legalised medical cannabis have received a degree of protection at federal government level after an amendment prevented the US Justice Department from spending funds on interfering with state medical cannabis laws.
As of 2018, eight US states have adopted laws to legalise recreational use of marijuana. They are: Maine, Massachusetts, Colorado, Washington, Oregon, California, Nevada and Alaska.
Earlier this year, sales of the drug for recreational use began in California, with Massachusetts set to follow in July.
Netherlands
In the Netherlands, cannabis remains illegal, but was decriminalised for personal use in 1953.
Since 1976, the drug has been available for recreational use in coffee shops, and possession of up to five grams for personal use was decriminalised, though police may still confiscate it. This often happens at border checks.
There are five varieties of medical cannabis available through pharmacies in the Netherlands and it is regulated by a branch of the government - the Office for Medicinal Cannabis.
Official crime figures for the Netherlands show a downward trend, however this year the Dutch Police union warned the country was beginning to resemble a "narco-state," as organised crime has increased.
Norway
Recent changes in Norway have seen significant relaxing of laws pertaining to both medical and recreational cannabis.
In 2016. medical cannabis became available through special approval in Norway.
Though the drug remains illegal except for medical purposes, in 2017, the Norwegian parliament announced cannabis would be decriminalised for personal use.
In addition, the government has said it would provide medical treatment to users rather than fines and imprisonment.
Despite being decriminalised, those caught with up to 15 grams – the amount considered to be for personal use – receive a fine. Those caught with more than one kilo can expect serious jail terms.
Sweden
Cannabis in Sweden is illegal, and currently the drug has no recognised medical usage.
Canada
Canada has provided access to legal medical cannabis since 1999.
Current laws allow licensed producers to grow, manufacture and sell cannabis products for medical use, and individuals may also grow their own cannabis for medical purposes.
Over 200,000 Canadians are registered as users of medical marijuana.
The Canadian market for medical cannabis is projected to exceed a value of C$1bn (£57m).
In 2017, legislation to legalise the drug for recreational use was passed by Canada's House of Commons, then the Senate in March 2018.
When the law comes into effect later this year, the sale of the drug will be taxed and provinces will have the power to regulate means of sales. Annual sales are estimated to be C$4bn (£229bn).
France
Along with the UK, France has among the strictest laws on Cannabis in western Europe. This week, the French government has cracked down on sales of what is essentially hemp, after a legal loophole allowed shops to start selling THC-free strains of the drug. Long queues formed outside recently set-up shops, prompting the government to take action.
Limited prescriptions for medical cannabis derivatives have been available since 2013, and can only be supplied when all other medications have failed.
Countries:

United_Kingdom